Multipurpose Antirust Lubricant QQ-61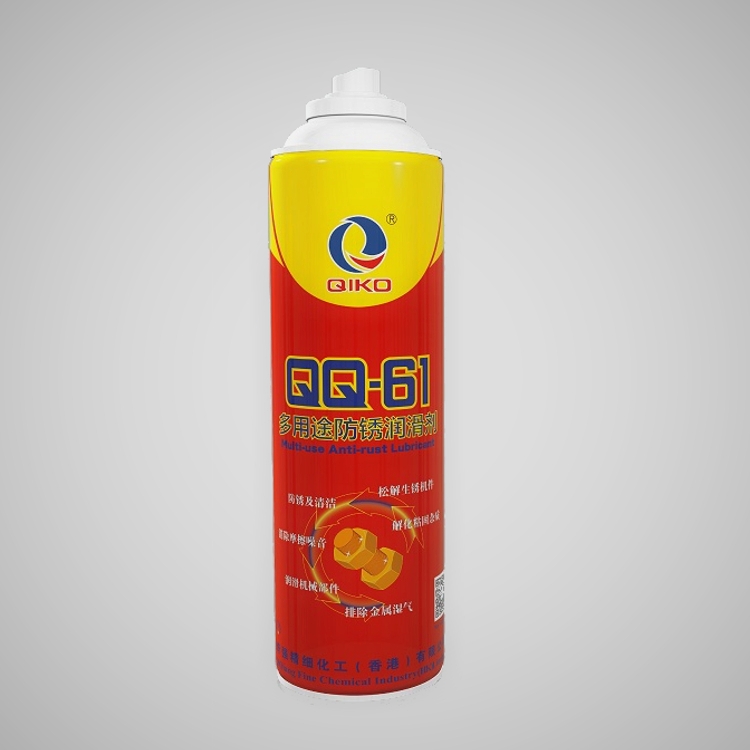 QQ-61 adopts the U.S. technology, and is manufactured by imported materials. QQ-61 is a colorless, non-viscous product, and for all kinds of metal machinery has the following features:
1. Corrosion protection 
2. Rust protection 
3. Dehumidification
4. Lubrication 
5. Cleaning 
6. De-noising 
Corrosion protection:
Spray QQ-61 on the surface of corroded metal parts, and thus the corroded metal parts will fully absorb the QQ-63 solution. Hold at least 30 minutes, and then use wiper to wipe through the whole sprayed area. QQ-61 can make the metal surface bright as new, and the protective film can prevent metal rusting again.
Easily loosen rusty screws, nuts.
For a variety of repair places.
Antirust of metal surface, applicable to all kinds of metals.
Rust protection:
QQ-61 has a strong affinity and penetration with metal surfaces, which can penetrate into the metal pores and discharge water and moisture. Precision formed thin protective film to keep out moisture and air. Effective solution to the problem of rusting metal, rust on metal parts of the interior can reach more than 2 years.
Range of application for rust protection:
Provides efficient antirust performance on iron and steel castings.
Provides efficient antirust performance on Zinc, aluminum, black and other metal parts.
Provides efficient antirust performance on Ship parts and seaborne exports metal parts.
Provides efficient antirust performance on electronic equipment, precision parts, and machine tools.
Dehumidification:
QQ-61 is superior in permeability; it can penetrate into the pores of the metal exclude moisture and humidity inside, and forming precision protective film.
Range of application for dehumidification:
QQ-61 can solve problems occurred by circuit boards and electrical damp, such as: switches, generators, transformers, spark plugs, relays, etc.
Lubrication:
QQ-61 products can be uniformly distributed in the metal surface, and penetrate into tight metal friction. Eliminate subtle friction noise between the metal connectors, and keeping its flexible operation. The QQ-61 protection film will be dried with no ash; it can be attached to the metal surface, and to maintain long-term lubrication.
Range of Application for lubrication:
Lubricants doors sliding parts and hinges.
Excellent Locks lubricating effect, long lasting for several years.
Lubricate all kinds of precision metal components, such as: clocks, rotating gears, throttle control valve, and linkage cable lines.
Especially electronic plug-ins, motor commutator, it greatly enhances the product lubrication cycle after the application of QIKO product.
Cleaning:
QQ-61 has superior penetration of the metal surface; it can adhere to metal surfaces and thoroughly remove traces of oil, dirt, dust and other attached sticky objects.
Range of application for cleaning:
Clean all metal components, machinery, mold surface and internal stains.
Clean vehicle spark plugs, and remove the car surface paint.
Clear and remove hard stains on plastic molds.
Suitable for clean air nailer, makes it quickly restore torque. While the QQ-61 was injected directly into the air intake of pneumatic tools, pneumatic tools can avoid demolition, and reduce failures.
De-noising:
QQ-61 has a function to eliminate noise; it can completely eliminate noises from machine or metal operation.
Applicable scope:
QQ-61 for lubrication, noise reduction and shock absorption plastic gears. Such as fans, remote control cars, planes and some electric toys; air conditioning vent motor; hand charger; juice machine (Meat grinder); potentiometer; electric (curtains, toothbrushes, mops); car antennas (audio, rearview mirror); DVD (VCD), video machines, tape recorders; craft gift.